We have 2 pay slips, only one more to go and hopefully a letter from the new Employer, then, with any luck, the bank will let us start...again.
I'm still slowly packing up some non essential bits and pieces, as well as making huge piles for the Op Shop, and possibly a stall at a local market. I have also had a look at carpet and floorboards. We have most definitely decided on 'Spotted Gum' flooring for the entrance, hallway, family, meals and kitchen, but it has made me think twice about the colour of the kitchen...much to my husband's disgust!! Many kitchen cupboards I have seen in similar colours to our chosen (Stipple Cocoa) have light coloured floor tiles, not honey coloured floorboards. The tiles blend in beautifully, but I am worried that by having the honey coloured floorboards next to the cupboards it will be adding another colour and look too much. I am seriously considering a white kitchen, which also won't date as quickly as a trendy coloured kitchen, and I'm pulling my hair out at the same time!! I guess it will be a trip to a Henley Display Centre to scrutinise their colours again for inspiration.
I have also found a 'Brintons' woven 80/20 bell twist carpet in a 'Mushroom' colour. Although it is far superior to anything else I have seen, it also has a rather large price tag. It should last 30 years with proper care and maintenance though. Too scared to get a rough 'guestimate' at this stage!! ;)
I have been shopping and bought a few things, though! Remember this beautiful clock in a display homes alfresco I have posted previously?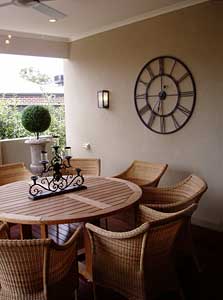 I now have one sitting in a box in the hallway, so it should look lovely in the familyroom...once it's built! But at least I can decide where it's going to go and get a few extra noggins put in for it.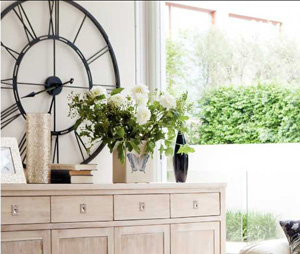 It should compliment my bargain Eiffel Tower print (a sheet of large wrapping paper)perfectly.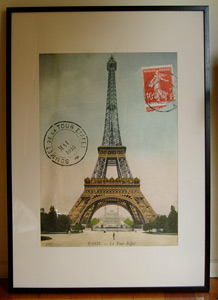 I've also invested in a beautiful large (and I mean large!) glass canister/jar for the ensuite, but I haven't a photo at the moment. It's from the beautiful homewares shop 'Provincial Living'.
I'll let you know of my kitchen decisions shortly, that is, if I can make a decision!