I had such a wonderful day last Sunday, at the launch of the Melbourne
Boutique Market
, as I had the privilege of meeting the gorgeous A-M from
The House That A-M Built
. I have been following her blog for over 3 years, so to finally meet her was such a thrill! I can't wait to catch up with her again next time she visits Melbourne, there's sure to be many a laugh!
I also met up with another fellow blogger Mrs B from
Decorating a Modern Home
. I have known Mrs B for almost 4 years and have met her several times before, so it was wonderful to catch up with her again. We all chatted about houses, Melbourne, blogging and The Block. We all had our photo taken with our phones to commemorate the occasion, something I will treasure forever!
I also met up with another house builder and decorator 'Trying To Decorate' whom I have known for several years through blogging and forums. It was wonderful to meet her too, but unfortunately, it was just as we were leaving. I hope to catch up again soon when we have a
Decorating Forum
catch up in Melbourne later in July. It's so wonderful to actually meet people and talk to them in person instead of just online.
The launch of the Boutique Market in Melbourne was fabulous. I have always read about this market in Brisbane through several blogs from Queensland, and to find out that they were starting one in Melbourne was exciting! I knew I had to be there and see in person the beautiful work from the
Mondo Cherry Girls
, whose blog I have been following for a while too. Their work is exquisite!
Apart from catching up with several friends, I was in awe of the beautiful work the market stall holders produce. I could have spent a fortune there, and many things I have added to my Birthday and Christmas list.
I did come home with a fridge magnet from
Almond Tree Designs
which sits proudly on my fridge, and a gorgeous owl made from recycled blankets from
Quirkie Su
.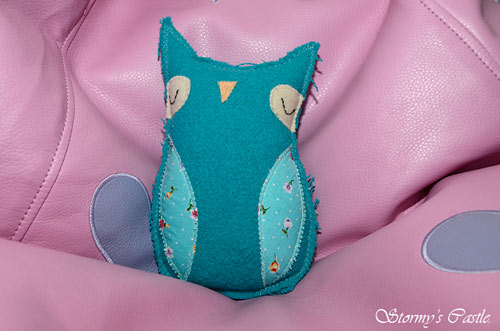 My Daughter named him 'Blueberry' and since coming home with us on Sunday they have not parted company once! He's even been Wii dancing and to the Pub for dinner!
I have had such a busy time lately, but I have managed to fit in some more crafty things. I have made another butterfly frame for a girl's bedroom in pinks and mauves:
Another set of 'keys' to sell in a shop on the Mornington Peninsula: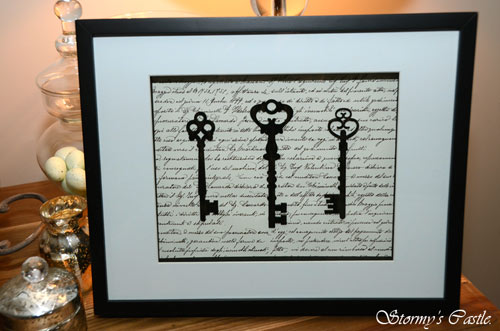 ...and something a little different in my vintage tags collection: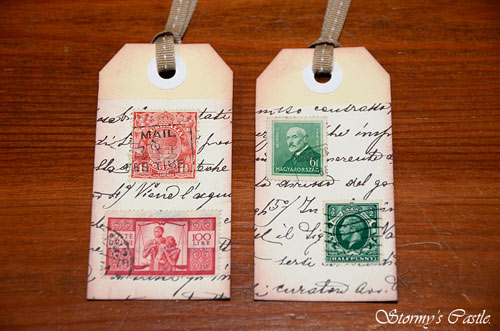 I'm currently working on 3 butterfly frame orders, another slightly different design in a bird theme and a vintage style Eiffel Tower, all of which will be revealed soon!
I still haven't managed to find the time to paint the other bookcase in the family room white, start on my blue ottoman or create the 5 piece canvases for my Daughter's bedroom. There never seems to be enough hours in the day! With lots of school events during the day, my evenings at the moment are tied up with dividing my time between Masterchef and The Block!
Go
Katrina and Amie
!!