After 6 weekends of some serious hard labour, lots of sweat and thankfully no blood or tears, the deck is complete! We ran into a few little issues we had to try and solve, and putting in the last 3cm board next to the house was a challenge, but we got there in the end! We now need to wait another couple of weeks for the wood to weather before we clean and stain it...although I'm not sure how much 'weathering' it will get under the roof line!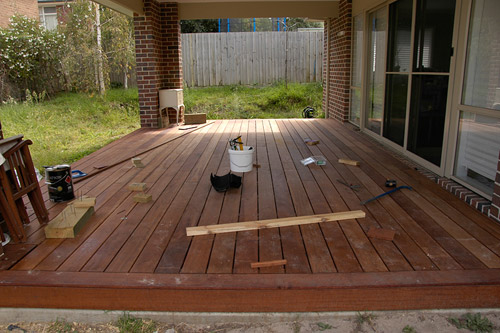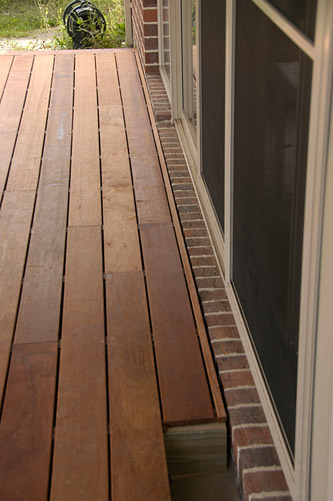 The further along into the project we got, the worse (bowed) the boards became and the harder it was to get them straight and onto the deck ties...but we got there in the end. I'm now on the search for a nice double door mat and a couch and coffee table.
So, what's next on the 'to do list'?
I have had a quote for 17 white plantation shutters for most of the windows, but I am yet to organise a proper check measure (Easter got in the way!), and I am about to paint a 3 drawer bedside table I picked up for $5 from the Flinders Market 2 years ago for my Son's bedroom. I am looking for the perfect drawer pulls to use as handles, but am not having much luck finding them. I don't want gold nor shiny silver, but a matt blackish colour, and cannot locate anything suitable. If you can suggest anywhere please let me know!
I am also going to paint a couple of old stained baltic pine book cases in white. Holly from
Life In The Fun Lane
has inspired me completely! I also have a 2 drawer bedside table given to me which I will do 'something' with eventually, but I don't think they will look as amazing as Holly's pieces.
I am also going to 'attempt' to make a buttoned ottoman to use as a coffee table in the lounge room. I have been doing some online research and don't think it should be too hard (well, no harder than completely DIYing a deck...). I have seen some people create them out of coffee tables by adding foam and quilters wadding to the table, but I might start from scratch with a pine frame, MDF top and bought furniture legs. I have located an upholsterers in Melbourne where I can acquire some supplies, but I just have to find the perfect powder blue velvet (my lounge room accent colour) to use as the top.
I'll keep you posted!