Hard to believe it's a year today since we got the keys to our house!
Outside, not much has changed at all...except the weeds! Inside there have been lots of changes, but still soo much to do. These school holidays I plan to clean out the kids wardrobes (again...) and also all their toys upstairs and get that a little more organised. A garage sale is sure to follow at some stage!
Now I have lived here for 12 months, what would I change?
Not a lot, really!
*I'd move a couple of power points so they weren't behind big pieces of furniture
* we perhaps could have extended the garage a bit to give us more storage space but less room down the side for garden
* move the 2 way light switch for the stairs to the stair wall not on the dining wall
* added another downlight in the family room
* not got the standard 'builders' dishwasher (it's basically crap!)
* installed a small openable window in the laundry for the dryer (which now lives in the garage with better ventilation)
* possibly an extra 3 pot drawers instead of a double cupboard on the island bench
* more power points behind the TV in the family room
* applied for special dispensation to get the house moved forward the 1 metre it had to be pushed back for the double storey portico (a bit more room in the backyard could have come in handy)
* different taps (yep, I still don't like them)
I still love all my colour choices, adore my bricks, love the facade (goes well with all the older 1960's houses in the street!), love the layout (but could do with a bit more furniture!) and love the space!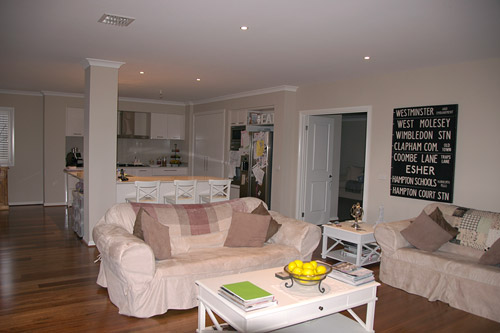 Don't forget to enter my giveaway competition, for your chance to win one of my butterfly frames. Just leave a comment on my giveaway post
HERE
to be in the running. Entries close 8pm EST Friday 17th September 2010.