Christmas and holidays seem like a distant memory now! It's back into the swing of things at home and at school.
The last few weeks I have been busy 'weather watching'. I had a few late nights while tracking the position of Severe Tropical Cyclone Yasi, and keeping my fingers crossed for family and friends in Townsville and Cairns. Thankfully, they are all OK, but my thoughts are with those closer to where Yasi made landfall as a Cat 5 at Mission Beach, Tully and Dunk Island.
Melbourne certainly did not escape the effects of Cyclones Anthony and Yasi. Part of the remnants of the cyclones were brought into Victoria by a trough. Melbourne (as you would expect) is not used to having tropical deluges, and therefore its storm water systems are not designed for it! I received 155mm in 24hrs, which really, roughly equates to 3 months worth of rainfall in one night!
Luckily, everything was fine at the house, and we had filled the porch area with 20mm screenings prior to Christmas, so the problem with our 'moat' now doesn't exist. BUT, there was flash flooding in many streets around Melbourne, and whole suburbs were left underwater, and many homes inundated with water. Due to the quick nature of the flash flooding, and happening during peak hour in the evening, many cars were left stranded as they were caught in roads which quickly turned to rivers.
The next day, I ventured out to a few local parks and creeks, and was astounded at the damage. Bridges along bicycle paths were smashed due to debris caught up in the flowing water, trees were down (some on houses), plants were flattened, top soil completely washed away and silt and debris left along fences, on footpaths and roads. Incredible.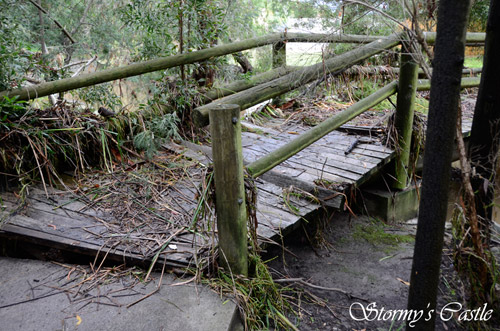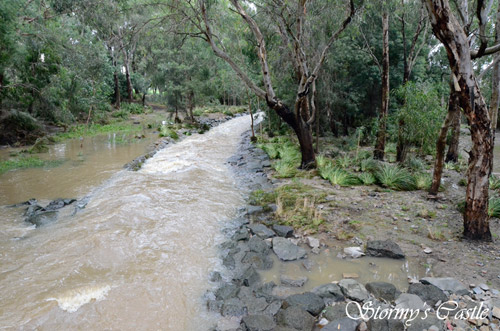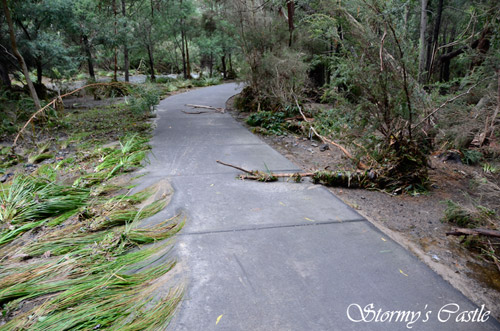 Mother Nature can be cruel, though. It was 2 years yesterday since the tragic events of the Black Saturday bushfires, and here we are nearly drowning with many other places in Victoria and Queensland, while it's Perth's turn to fight bushfires. Talk about extremes....La Nina has a lot to answer for!
On to other things...I completed a customer order for a butterfly frame in green a few weeks ago.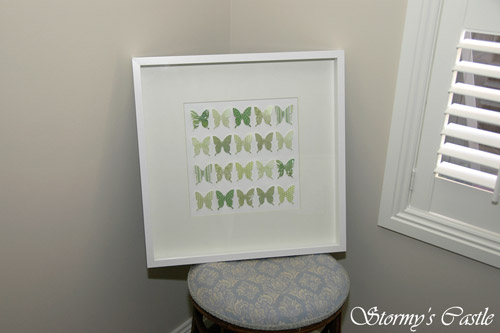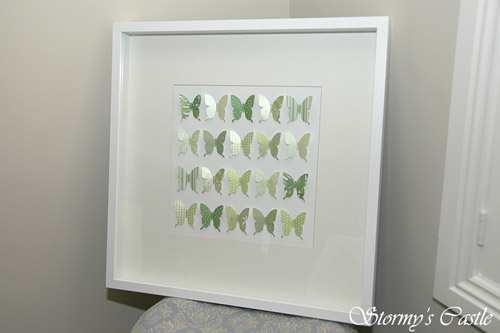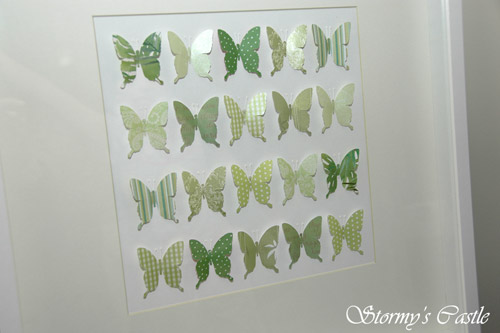 I also made another style of musical butterflies with 'vintaged' edges, but I forgot to take a photo of it before I gave it to the shop. I will be making one for the Master Bedroom, so I'll take some photos when that's finished!
..and I treated myself to a new camera! I haven't had much of a chance to go and have a 'play' with it, but hope to soon!
In amongst all that I 'finally' took down all the Christmas decorations (I was away for 4 weeks after Christmas, so that's my excuse!!), and am still going over "how to's" in my head regarding making a padded ottoman!
More house reveal photos soon...it's been a while!