I'm in a bit of a dilemma at the moment, and I can't decide whether to have two pictures or three on one wall in the lounge room. I have two ready to go, but being such a big blank wall and a fairly good sized room, I'm leaning towards three.
What do you think?
Here is the room in question. Disregard the cat scratching post (saves my carpet and couches), and try to imagine a white bi-fold plantation shutter on the window with a lovely feature tree behind! Some sort of lighter coloured rug on the floor and either a coffee table or buttoned upholstered ottoman...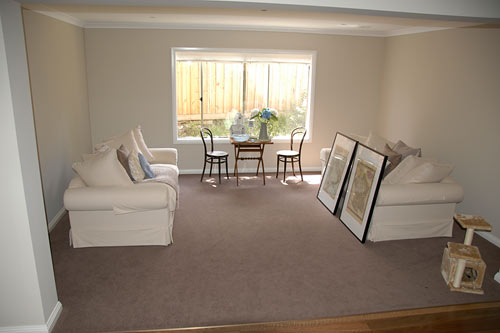 Here are the pictures in question. They are reproduction vintage maps of France and Italy, of course, and are actually sheets of wrapping paper: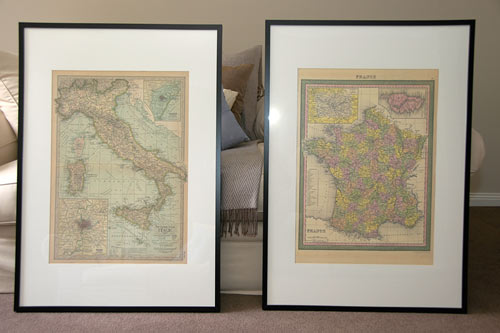 I didn't have 3 pairs of hands, so I leaned the frames against the wall on the bar chairs and cushions to give them height. Here's two...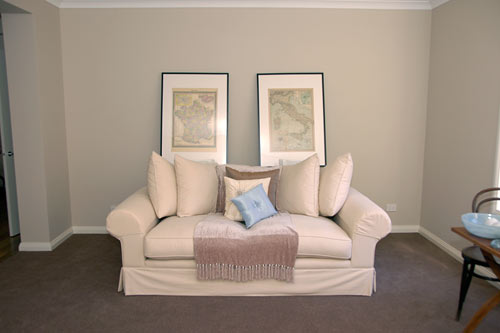 ...and here's three: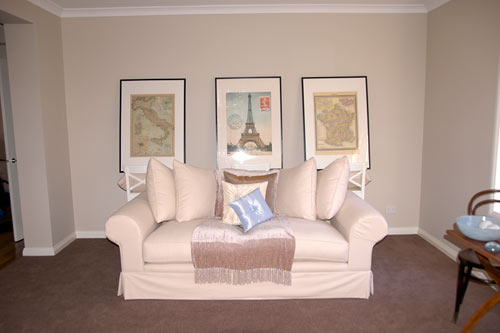 Although the Eiffel Tower will go back to being in the hall and be replaced by another map if I can find one!
I even thought about hanging them on either side of the window, but I feel they are too big for the space, and then I'd have to think of something else to put on the large blank walls!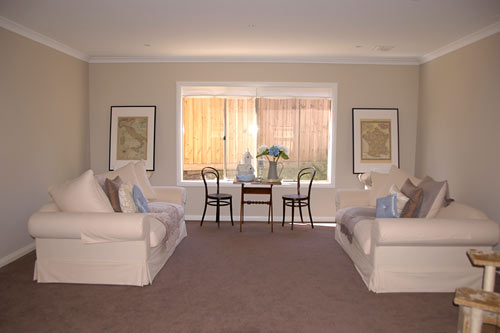 I'd love to hear your thoughts and suggestions!
The last 2 days have been fairly busy! Yesterday we received a delivery of joists and 'no nail' wide decking boards to begin the deck in the alfresco. Should look fabulous when it's done and I will no longer worry about the concrete dust brought into the house on people's shoes! Today we received 5 pallets of bricks to build the brick pillar fence. I will need to organise a couple of quotes and decide exactly what I want and the correct dimensions. Once that's done the driveway can go in! Yay!!!