Finally we have a full length mirror in the WIR, courtesy of IKEA.
Whilst leisurely wandering around IKEA last week (Husband and Children free), I noticed the 'Utsira' mirror up on display in their wardrobe section. I instantly fell in love with it, and the $29.99 price tag!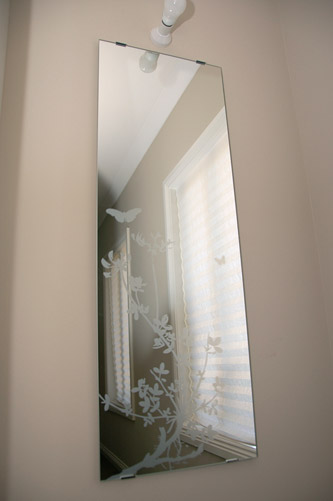 I had to make a return visit to buy it as I already had a large 70x100 Ribba frame (for my London Underground picture), 2 Branas baskets for the Expidit shelves in the kids play room, and a jug. I didn't want to risk breaking the mirror and attempt to carry all that to the car by myself (which is a nightmare if you've been to IKEA in Richmond), so back we went last weekend to pick it up...as well as a few other bits and pieces.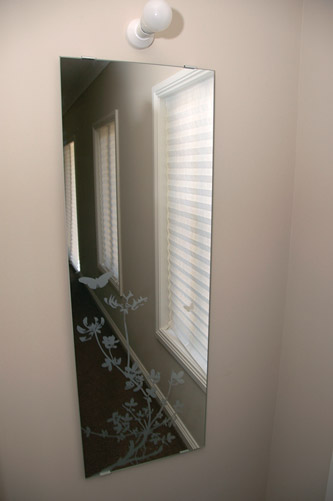 It's not on display, but hidden in a small alcove in the WIR, so nothing too 'fancy' was needed, just practical. An added bonus of having a lovely butterfly and plant design on the glass. My expensive pretty mirror is in the entrance!
Now I have to find a wall light to replace the fitting above. I can't wait to have my plantation shutters installed either...I'm getting so sick of the Redi-shades, and most of the time they stay down as they take so long to fold up in the morning.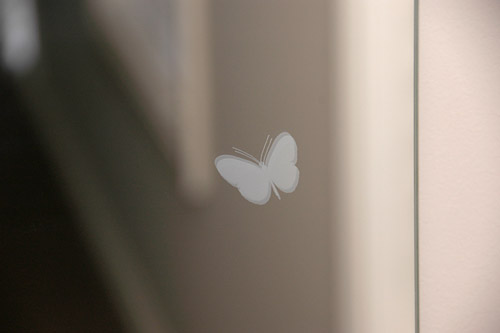 Another thing to cross of the to-do list, only hundreds more to go! I'll be going back to IKEA shortly to get the Nickel Barometer desk lamp and a white Lack floating shelf for the study nook in the family room. Another job for me is painting my old pine desk white and changing the handles. Shouldn't be too hard after the success of the bedside table a few weeks ago!
Stay tuned for more updates shortly!