Moving away slightly from my love of all things French, I'll also reveal that I have a passion for British things as well. Although you may have guessed with my London Bus Blind and a few Laura Ashley furnishings around the house! Adding to the London transport theme on the walls in the Family Room, will eventually be a map of the London Underground...yep, a framed sheet of $7 wrapping paper! I still need to make the trip to IKEA to pick up the frame (among other things), but have been tied up this week.
To add to my Son's new set of refurbished drawers in his bedroom, and continuing the blue, white and red theme, there will finally be something on the wall! The Union jack is such a beautiful flag (God forbid should they ever remove it from our flag...), and I couldn't resist this version of the 1939 propaganda poster (which was never used) 'Keep Calm and Carry On'. This poster will have cost me less than $15, delivered, from the UK!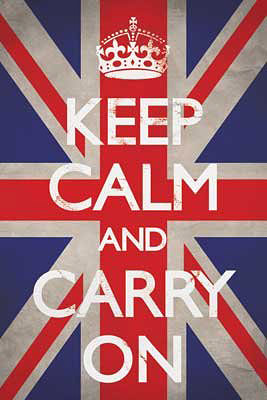 Very appropriate for a little monkey dressed in a boy's suit!!
Hidden among the Eiffel Towers', you may also find the odd red double-decker bus, a red telephone booth, or a London taxi!