Finally, we have had a few weekends free without places to go or people to see, and have been able to start on the landscaping. The soil (if you can call it that!) needs ALOT of work. It's very sandy, but with pockets of lumps of clay, not to mention demolition rubble AND builders rubble.
To start off, we've lined the bottom of the wooden fence with cement sheeting, as we've had to build the soil up a bit to make the garden beds. The fence is in very good condition (was new about 8-10 years ago), and didn't want the soil up against it to quicken the rotting process. We've removed weeds, bricks, lumps of clay, pebbles, broken roof tiles, old clay storm water pipes, smashed bathroom tiles and old tree roots and added dynamic lifter, mulch and 6 olive trees!
Just that small amount of work has made a huge difference, but there is still soooo much to do. At least it's a start!! No photos at this stage as I didn't get a chance to take any, and I'm on holidays at the moment!!
My Daughter's ballet canvases are up on her wall, as are my Son's. So their rooms are starting to take shape, but being school holidays at the moment, they are, of course, not tidy!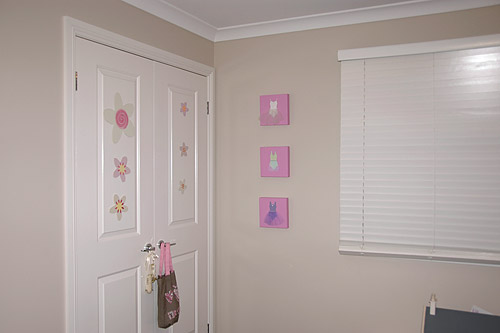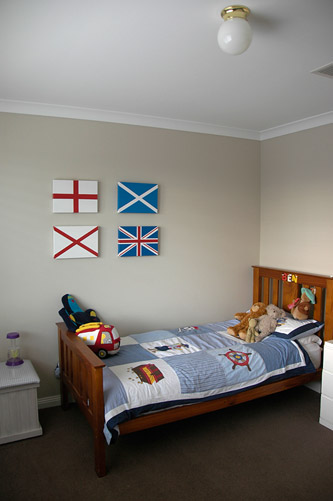 I've also completed another butterfly frame. This time it's in a brown frame I managed to find (but haven't seen since), and the butterflies are cut out of an old 1970's atlas I found at the Op Shop for $2! These butterflies include London, Paris, Provence, Italy, The Italian Lakes and Swiss Alps!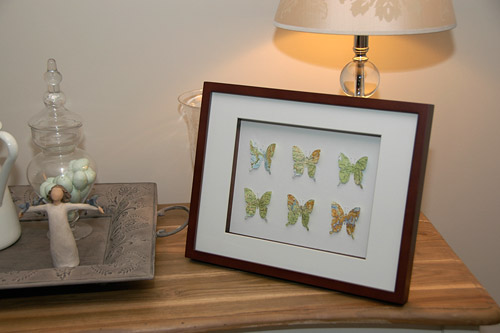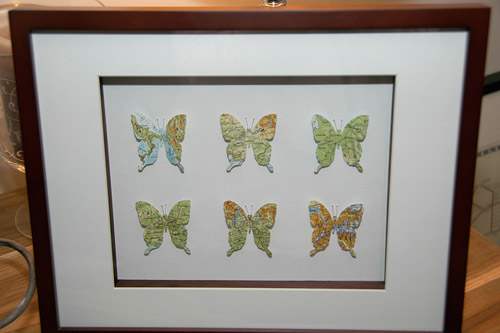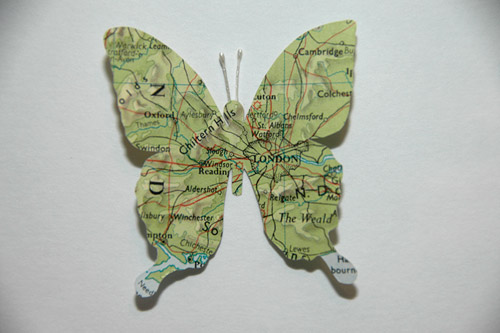 It will either live in the master bedroom or the ensuite...I haven't decided yet!
Busy times once school goes back next week! I have been asked to make 4 butterfly frames for a blog/forum reader, plus I'm still working on the large butterflies for my daughters room, plus her other 5 canvases...and I need to choose my 'white' paint for the small bookcase I primed a few weeks ago.....
...AND I have to clean all the windows and move furniture so the plantation shutters can be installed Wednesday week!!! Yay!!!! I'll have lots of photos then!!