I didn't get a chance to go to the house (or what was...) today, but I know they were not going to be working. They were actually pretty busy yesterday with removing most of the rubble, and putting all the scrap metal into one pile. They were also successful in selling the picket fence, so I hope that has gone to a good home. It was quite strange looking at the 'property' (can't really call it a house now!) without the beautiful front picket fence I painstakingly painted 12 years ago! It will be very much missed...but that's life. These photos were taken at various times during the day on Friday.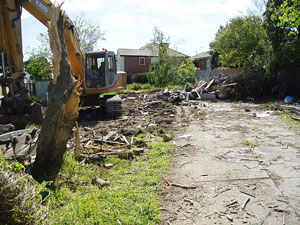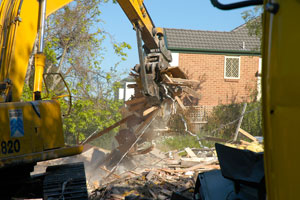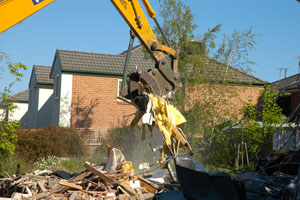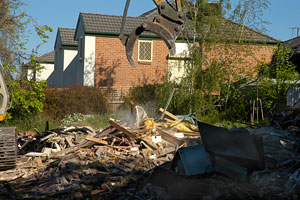 R.I.P picket fence...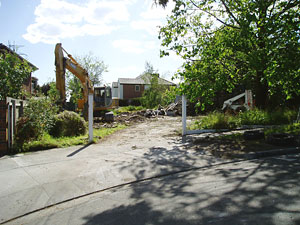 I had a lovely chat to the excavator bloke on Friday afternoon, and he believes he will most likely be finished on Tuesday. I also asked him how he was going to get rid of the beautiful tulip tree which stands to the right at the front of the property. He said it would be easy with the excavator, and he'll just pull down the branches and basically crunch up the trunk. Not sure if I really want to watch this either...such a beautiful tree!
Looks as though after several reminders to the demolishers that I won't be getting any floorboards. The 'Head Honcho' apparently didn't relay the message to the excavator operator, and they have all gone to the tip. The excavator operator said he wish he had known as it would have been easy to put lots in a pile for me...bugger. Our plan of making our large desk top for the study out of old floorboards from the house seems to have not eventuated. Should have cut them out ourselves before we handed over the keys :(
On a more positive note, the search for a French Provincial style chandelier for the dining room has ended. Although it's still sitting in a shop in Camberwell, this 3 arm rustic/shabby chic looking chandelier will sit above the new dining table in the new house.
Absolument magnifique!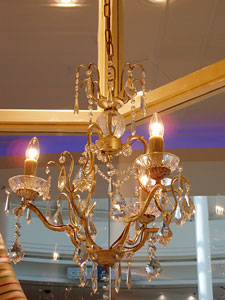 And if, on the off chance, it doesn't quite suit the dining room...it'll be perfect in
la chambre des maîtres!!