I went for a little wander around the 'dust bowl' yesterday and discovered that someone had been digging (or drilling) holes in various places around the block. Yay!! Not sure if they have done the next contour survey, and they haven't done the re-establishment survey yet, as there are no pegs with pink ribbons on them. Well done Henley for getting started!!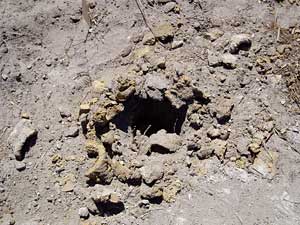 I've also been emailing my lovely Admin throughout the week to decide on some extra bits we would like to include. Thankfully, we don't have to pay the $500 for this Post Contract Variation, as Henley will need to do one to include the results from the second soil test and surveys. We are trying to include as much as we can now, to avoid paying the $500 later!
Some of the things we have decided to include is:
* A couple more power points for ease of vacuuming the stairs and other areas
* A standard shower head instead of a water saving slide rail thingy that would leave 3 holes in the tiles if I ever wanted to change it!
* A Brivis evapourative cooler unit to the upstairs with 6 vents.
* Increased R value to ceiling batts and wall batts.
* the upstairs toilet door to swing the other way and moving the light switch accordingly.
* Sound insulation to most internal walls (unfortunately we can't have it between the floors).
* Move one of the taps outside from the side of the house to the back.
* Add junction box or power point for future split system air con in the meals/family/kitchen area.
We have this weekend to decide exactly what we want to add, and I'll hand deliver all the details to Henley on Monday. Fantastic to see things are moving, so my fingers are firmly crossed for a slab before Christmas!