Here is the full colour list...I just hope I haven't left anything off!
NOTE: Photos are not a true representation of the colours, just a basic feel!
EXTERIORBricks:
Daniel Robertson's Hawthorn Tan Blend.
Mortar:
Flush off white.
Roof Tiles:
Bristile Classic Single in Gunmetal.
Windows:
Merino/Paperbark
Gutters/fascia/downpipes:
Paperbark
Garage Door:
Caprice (raised rectangular panels) Paperbark
Front Render:
Earth Kiss
Front Linear Bands:
Paperbark.
Front Door:
Gloss Black (signed a disclaimer as Henley won't cover for 'warping')
Rear Cladding:
Jasper (blends in with bricks)
Eaves:
White.
Driveway:
Charcoal grey concrete (done at a later stage).
Meter Box:
Paperbark
Rear Garage Door and Laundry Door:
Paperbark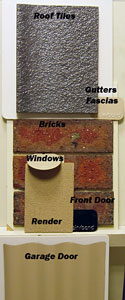 INTERIORWall colour throughout:
Nomadic Ivory
Ceiling:
Builders White
All Woodwork and Internal Doors:
Gloss White.
Staircase Treads/Risers/Newel:
Gloss White. (Carpeted)
Staircase Balusters:
Black with some decorative ribbon inserts (dust collectors!!)
Staircase Handrail:
Colonial Baltic stain.

KITCHENBench Top:
Caesar Stone Ice Snow
Cupboards (o'head and base):
Laminex 'Alabaster' in gloss 2 pac. Soft bevelled profile
Kicker:
Alabaster Laminex
Splashback:
Glass 'Alecon Lace' on Starfire. (low iron content so true clear glass, not green tinged)
Handles:
Tekform Square D-Pull brushed chrome.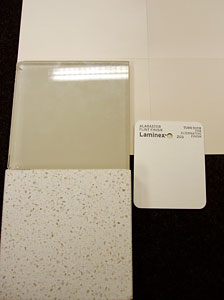 POWDER/BATHROOM/ENSUITEBench Top:
Caesar Stone Ice Snow
Cupboards/Kicker:
Laminex Alabaster
Floor Tile:
Banur Earth (was Urban Earth)
Wall Tile:
Roman Gloss white
Handles:
Tekform Square D-Pull brushed chrome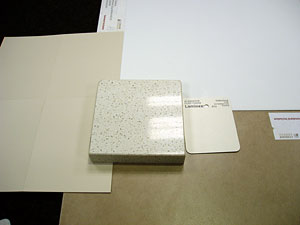 LAUNDRYBench Top:
Laminex Diamond Gloss Pure Mineralstone
Cupboards (under bench and o'head):
Laminex Alabaster
Kicker:
Laminex Alabaster
Floor Tile:
Banur Earth
Wall Tile:
Roman Gloss White
Handles:
Tekform Square D-Pull brushed Chrome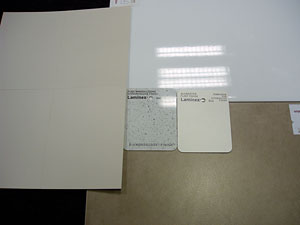 FLOORINGHallway/Kitchen/Meals/Family:
Boral's Silkwood Spotted Gum
Study/Lounge/Dining/TV/All Bedrooms:
Brintons Bell Twist 80/20 Mushroom