It's been a long time coming, but today we finally sorted out the storage (they are brand new and still don't have EFTPOS). Unfortunately for us it was pouring rain at the time, so the Territory was backed up as close as possible to the front door to pack. Driving over the lawn and garden? Yeah, well who cares about that now! It'll all be history in a few months time.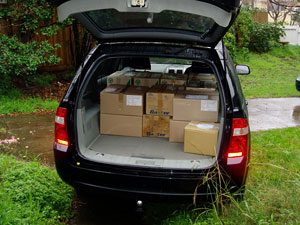 ...at least my lounge room has more room to move in it now!
The countdown to colours is on too. Only 3 more sleeps!! I'm pretty confident in our colour choices, but it still is quite a worry, just hope that everything falls in to place.
We all went to look at the Henley Majestic that's up for auction in the area this afternoon. It still has a lovely homely feel about it, and I will be interested to see how much it goes for next week...if it does. They put in the most expensive fire place, mantle and Caesar Stone surround in the lounge (approx $11,000), but there is one thing missing out the back...an alfresco (and of course a TV point to go with it! ;) )
On with the packing!