It has been a very busy week here, but things appear to be moving along nicely.
On Monday 25th, I was greeted on my way out to school by a large truck and a bloke with a jack hammer! Three guys had turned up to install the underground power pit. At the time I left, they were setting up the jack hammer to dig up the footpath where the pit was to go, and working out where the gas and water pipes were for our house, and the house next door. By the time I came back about an hour later, the footpath had been dug up and the back hoe was digging out the soil, and there was a trench in the nature strip next to the electricity pole.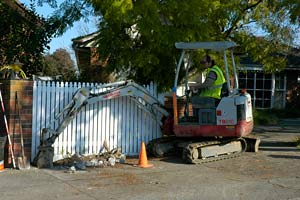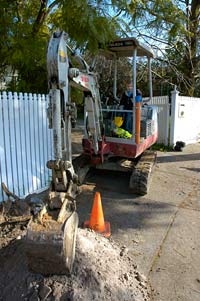 I chatted to them for a while, and they explained everything they were doing...and even let my Son have a sit on the back hoe!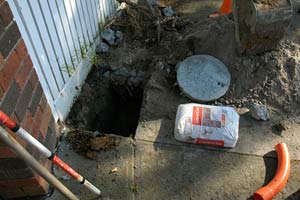 Just after midday, they were all packed up, having completed the instillation and 'mostly' cleaned up their mess. I actually got out there with the broom to finished sweeping a bit of remaining soil back on the nature strip.
And voila! We have underground power...although it won't be connected for a while!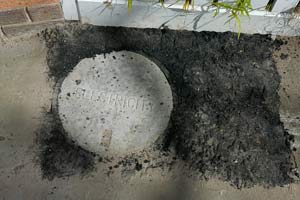 Apart from the excitement out on the footpath, we have finally sent off our loan documents, received a letter to apply for 'Asset Protection' from the Council (footpaths, kerbs, council trees etc during the demo and rebuild), and redirected our mail. I also spent the best part of an hour on the phone to the Council to change our address for the cat rego, Telstra to disconnect the phone on Monday and put a 'reserve' on our phone number and Origin Energy to abolish the gas and electricity.
It's going to be an even busier weekend with moving, but I think I'm 'fairly' organised! (Famous last words... ;) )