FINALLY, after almost 4 weeks of running around on the phone, we have our mail redirected. No sign of my $5 money order, but hopefully that will arrive in the next few days.
I took a trip to the house this morning to find, again, there had been no action from the demolishes. What I did find, was our crossover had been dug out where the gas was abolished, and frame work was in place ready to pour the new concrete. I'm not sure why they are doing it now at the beginning of all the works, and not after demo and construction, but as long as I don't have to pay for it, then I don't really care. I guess it will hold up the demolishes by a few days while they wait for the concrete to cure before driving their heavy machinery on it. So, day four of demolition, and it looks no different. At this stage, we'll be lucky to have a slab by Easter...
A couple of pics from this morning: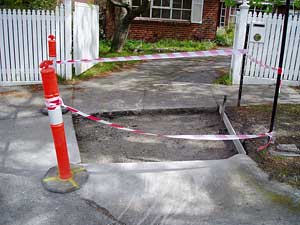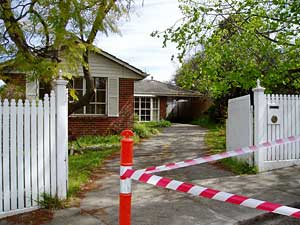 As promised, here are a few more pics of the Wilshire Mk3 from Point Cook. Not in my colour scheme, but you get the general feel of the layout.
Dining Room. The larger window will be moved to the lounge, and replaced with the two smaller windows from the lounge. No point having a big window facing south. I think I've also found the chandelier I'm after for above the table too!: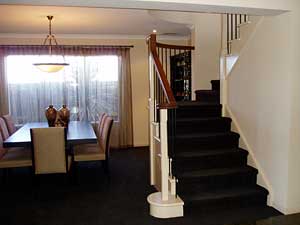 Lounge Room looking into the Dining across the hall: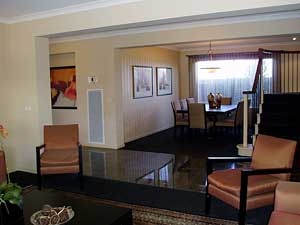 Hallway towards the front door, showing the garage internal access door (which will be swung into the hall, not into the garage.):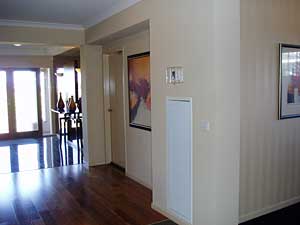 The Grand Alfresco. As standard, it is open on three sides, where as the display has one side built in with the heater. Ours won't initially, but we may block out the south side with something eventually. This shows just how big it will be: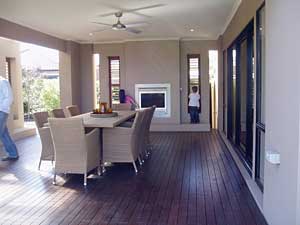 The Pantry in the kitchen, although not a huge Butlers Pantry, is still massive compared to what I'm used to!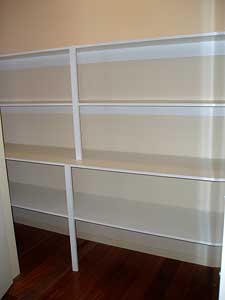 The hallway as seen from the front door. Study on the right (just out of frame), followed by the laundry/powder on the right past the big picture, then the loungeroom. On the left is the garage internal access door in the alcove next to the other picture, followed by the dining room and stairs. Just past the stairs we are having double doors to close off the family/meals/kitchen for privacy and cosiness!: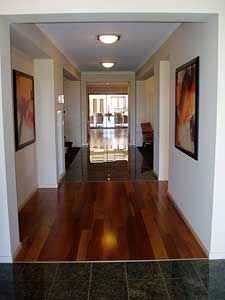 The Powder Room: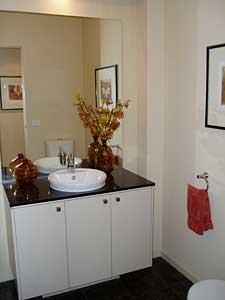 The Laundry will have a bench with cupboards below and built in trough, and overhead cupboards for storage, instead of this tiny standard trough.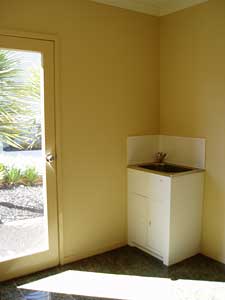 Looking into the laundry from the hall, with the powder room neatly tucked out of view on the right: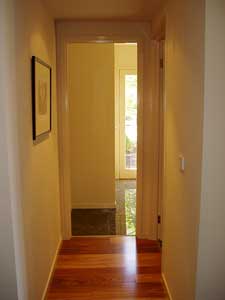 That's it for the moment! So until 'something' starts happening with the old place, there won't be much else to post for a bit.