We had a very positive meeting on Wednesday morning, and an important date our SS gave us was the 18th August. This date is when construction is estimated to be completed, and our file gets handed over to the 'Handover Department'. From there, the house will be inspected by Henley's team and a date set for our Practical Completion Inspection (or New Home Inspection) up to 2 weeks later at the max. Then once any issues are identified they will have 2 weeks to fix them before our official handover date. So, with that in mind, our date for handover is possibly 15th September at the latest! Secretly hoping it's earlier, as the kids start their school holidays on the 18th September. Ideally, I'd love to have the cable fit off, flooring , heating and appliances installed BEFORE the holidays...and most of the moving stuff. But in reality, anything can happen!
As we discovered, it was not one of our mirrors in the rubbish cage, as they haven't been installed yet, so perhaps our site was the next port of call and they dumped it with the rest of our rubbish!
We discussed several things with our SS on Wednesday and all will be fixed. The list includes:
* Fixing the portico issue (apparently very easy!)
* Fixing a few gaps in the bricks on the lounge window sill.
* Front doors to be sanded back and painted another coat of gloss (especially now they have render splatter on them).
* Gap in infill sheet above stacker door to have quad and painted.
* Kitchen pot drawer replacements still at the factory, but should be ready shortly.
* Metre box will be painted.
* A small bend in the guttering along the alfresco will be fixed (we think it's just a clip that has not 'clipped' properly!)
* A dent in the frame on one of the dining windows will be fixed to prevent the possibility of water getting in.
* The possum will be dealt with!
* I have also requested that now the finishing touches are happening, that no smoking takes place inside the house.
I actually didn't take as many pics as I thought I might because nothing had really changed since I 'attempted' to meet the tiler last week! Our splashback in the kitchen has been installed, but is still covered in the protective plastic film (that can quite happily stay until handover day as far as I'm concerned!!)
The laundry wall tiles installed and grouted. They are not the ones we had in our contract, but because the wrong ones were initially delivered, we chose to have the left over ones from the bathrooms put in instead. They look fine:
The floor all grouted too, although still powdery: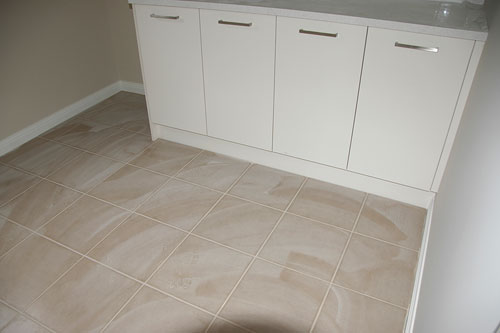 The powder room tiles grouted: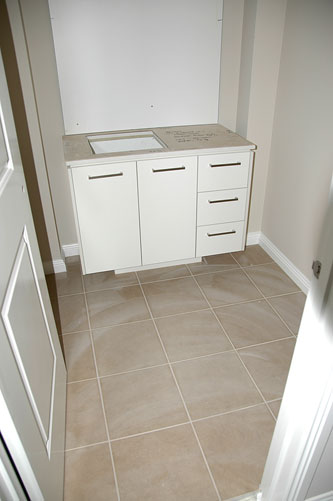 The ensuite tiling completed (just need to replace the skirtings taken off to fit the tiles):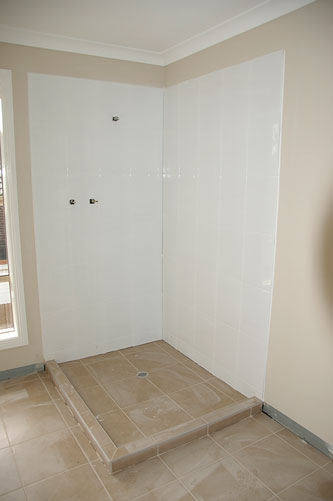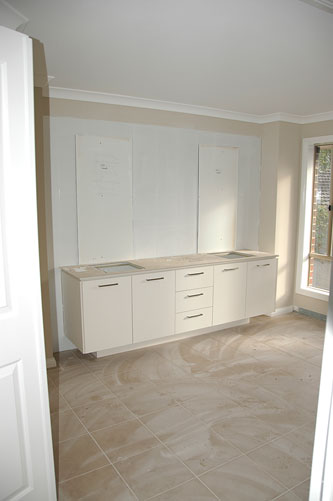 View from the master bedroom through to the upstairs TV area, and the double ensuite doors: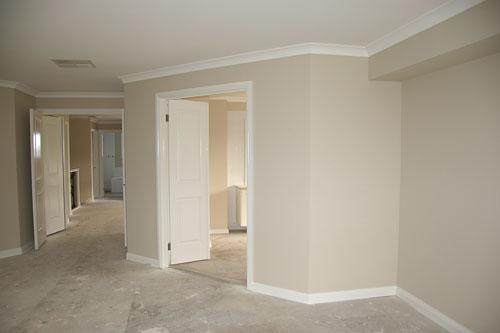 Part of our walk in robe. This configuration was standard with one side double hanging and 2 sides single hanging. We certainly wont be requiring all of the single hanging space, so we will have some shelves and drawers made to fit. We could rip it all our and reconfigure it all, but SS let us know that all the melamine sheeting is stuck to the walls, and ripping it all out would do some damage! We'll work with what we have for the moment, I think!!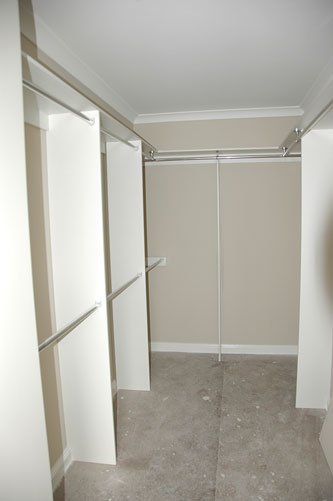 The kitchen splashback. Very pleased with the subtleness of the colour! When we had our colour appointment (over a year ago), there were very few light coloured choices. Henley have since changed to a different splashback supplier and lots of different choices, but we are still happy with out final decision. Once the appliances and general kitchen 'stuff' is on the benches, it will look good and blend in with everything else. The colour is Dulux 'Alecon Lace' on starphire glass (low iron content and no green tinge):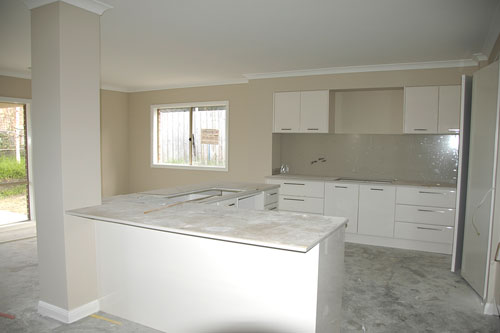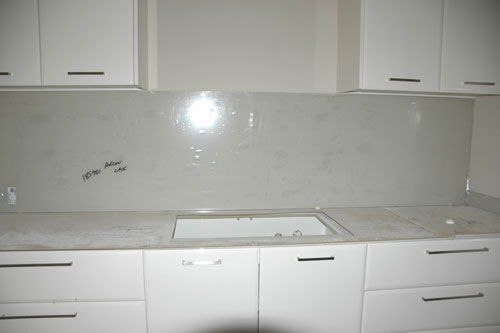 Another casualty upstairs...no idea!: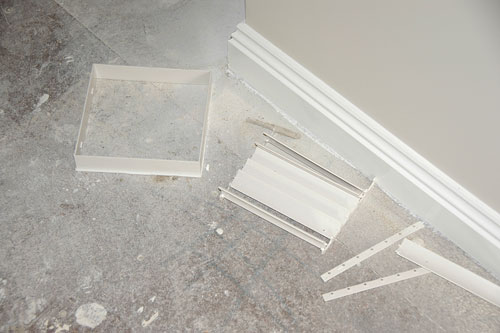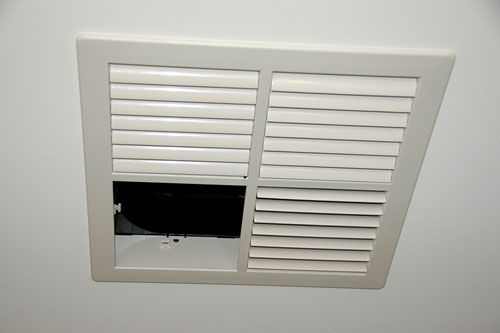 Upstairs linen cupboard: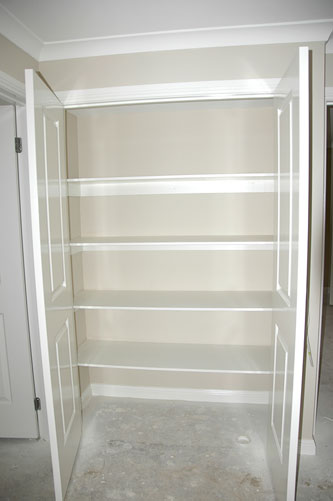 Our lovely wide hallway to the front door: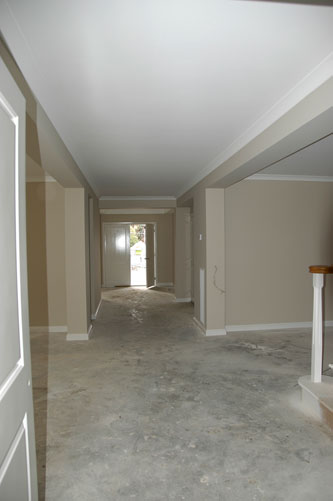 ...and back again: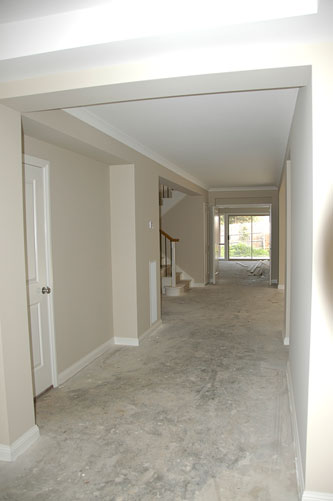 Almost done!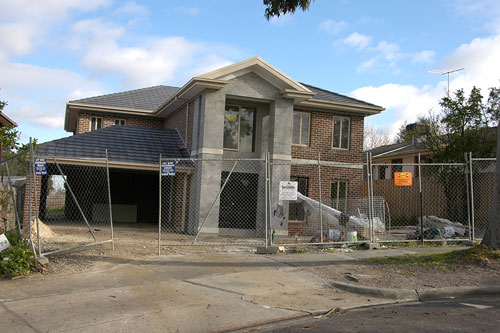 Because this was most likely our last official meeting with our Site Supervisor, we thought it appropriate to give him a gift as a token of our appreciation. We consider ourselves extremely lucky to have had 1 SS throughout our build. Others have several. We also know we have been blessed with tradies our SS prefers to use, knowing they have been tried and trusted. We didn't wait for 3 weeks for our brickies for nothing! Our SS believes our home is of better quality than display home standard, and for this, we will be eternally grateful for his ability, his professionalism and his time. He has answered every question, querie or concern we have had, and has always been willing to give us a detailed explanation of how and why. For those who have built, or are building, they know just how very stressful it can be. Living, breathing and sleeping every detail over and over again, making sure things are right. There will always be little things along the way that go wrong or are not 'quite right', and the way our little 'not quite rights' have been handled has been excellent, making the stress levels somewhat bearable! I'm certainly not in a hurry to build again (I'd like to actually live in our dream home first after all the blood, sweat and tears!), but if the actual 'construction phase' could be this easy with another build, and another fabulous SS, then I would have no qualms in doing it again!
Cheers to you, SS, and we hope you enjoy your Bourbon!