Today marks the day that construction has been completed, and our file gets moved to the 'Handover Department'. This means our New Home Presentation Inspection (or PCI) is imminent, and could possibly happen within the next 2 weeks, followed by handover in another 2 weeks. As of the weekend just passed, our biggest 'outstanding item not completed' was the rendering of the portico. Thankfully, it was done yesterday!
I have a few photos to catch up on as I've been pretty busy.
Fly screens were installed and windows cleaned and scratches touched up last week: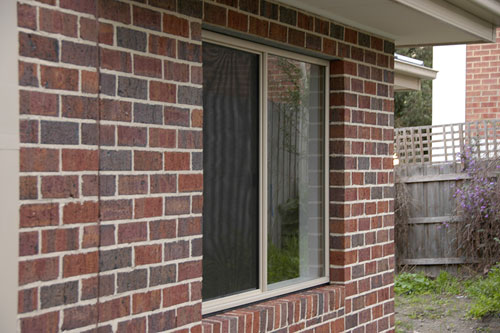 The portico re-alignment happened last week too. Was a fairly easy fix, and now having been done, the renderers could finish their top coat. There is still a little 'fill' required where the eaves sheeting meets the bricks next to the fascia, but it's on my 'list' for PCI: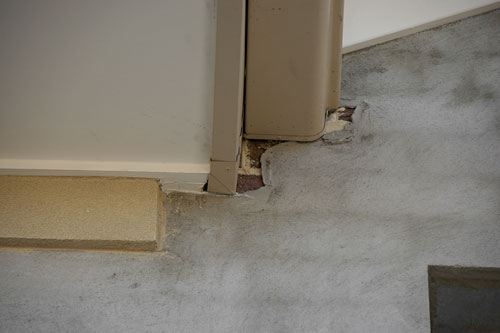 Another 'fix' on my list is the corner of one window. I'm not quite happy with the hole in the corner and the way the black weather strip for the window is sitting. Compare it with another window, and you'll see what I mean: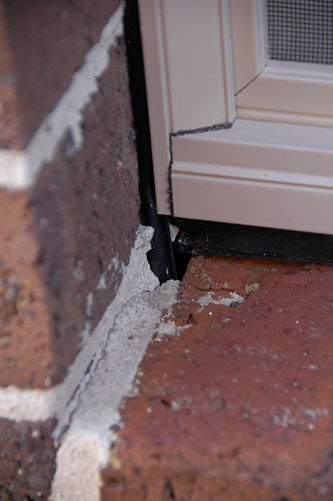 ...compared with...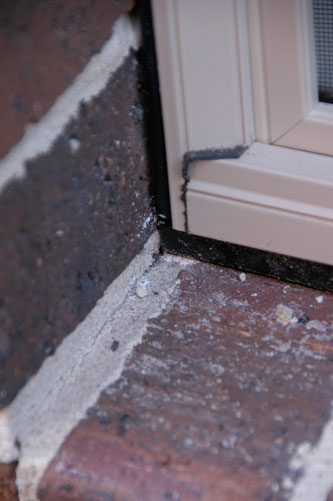 Even though the windows have been 'touched up' with spray paint to get rid of the scratches, I still managed to find about 3 others that were overlooked.(No pics, though!).
A pleasant surprise I did find was the white connecting PVC pipes from the downpipes to the storm water drains have been painted to ground level. I'm not sure if this is standard with Henley, as I have heard of people with other volume builders having to do it themselves after handover. So, thankyou Mr painter! Saves me buying a can of Paperbark spray paint from Bunnings!: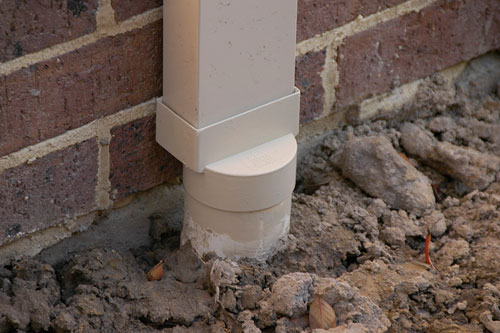 On my drive-by yesterday morning I saw 5 renderers setting up their ladders, ready to start the portico. I didn't have my camera at the time and had decided I was going to go and organise the collection of my chandelier, which has been hanging in the shop since it was purchased last October! I pick that up in about 3 weeks! 2 hours later when I returned with my camera, they had finished applying it, and were just cleaning up and giving it the last smooth over!: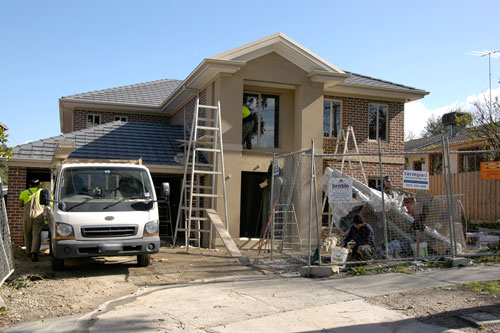 This was one of my 'colour worries', having picked it in June over a year ago, and from a small sample. I just knew I wanted it to be darker than 'Paperbark', but the colour 'Earth Kiss', was never available as a take home sample chip from the shop. I had visions it was going to be really orange and look horrible, but it does compliment the bricks nicely: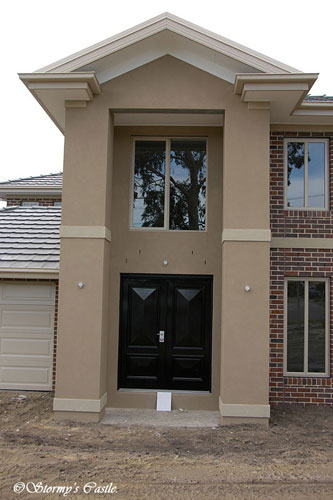 Love my doors: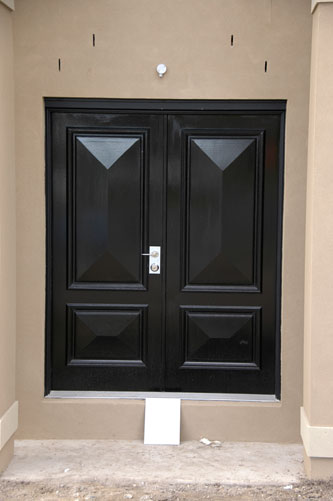 Here is the section of the portico that was adjusted. As far as I know, there was no grey base coat applied to the newly exposed bricks before the top colour coat (refer to previous portico fix photo in this post), so I just hope it sticks, and doesn't fall off: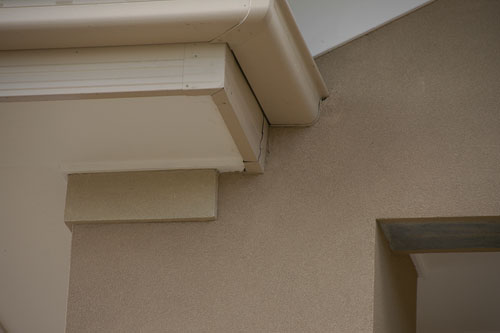 If you look closely, you can see the bare metal edging just above the linea band...that's on my list 'to fix' too: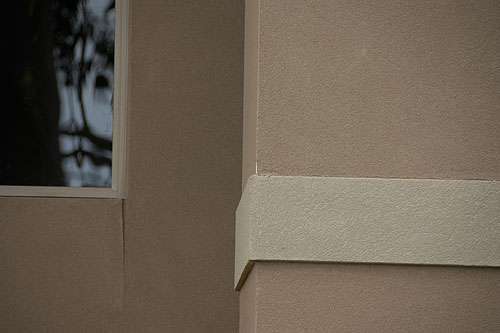 Another section that looks a little 'rough', and just happens to be above the front doors. It was still wet at the time, and it may have dried smoother, but I haven't had a chance to have a good close look at the render yet: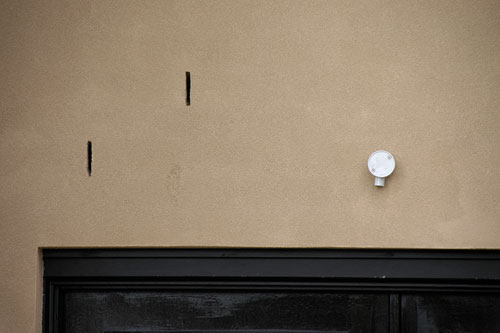 The site as of yesterday afternoon. Render done, rubbish cage and port-a-loo removed, and the site was cleaned! Soooo close, but needs a driveway, front fence and garden before it will look spectacular!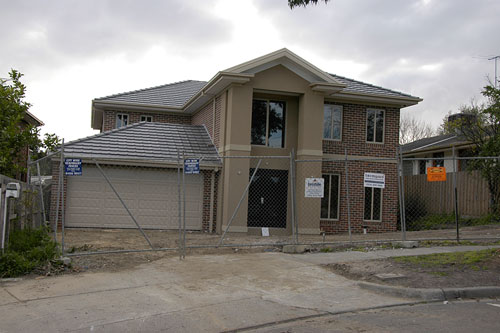 So, with 'actual' site start happening on the 4th February 2009, construction officially ending today and taking away the 3 week delay waiting for the brickies (when nothing else could happen at all), it brings the total to 26 weeks construction time. That's actually pretty standard for a double storey 44 square home, and is 4 months earlier than the 'contract' time.
Still no offical date for our inspection or handover...but
finally
, it is imminent!!