...but first, here are the pictures of the garage roof tiles from Wednesday!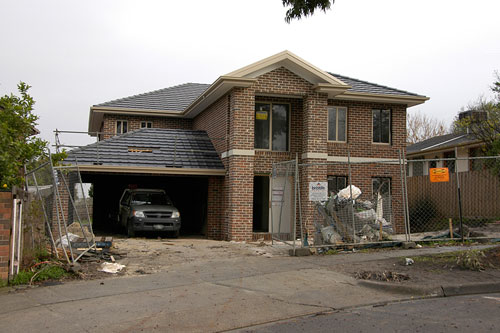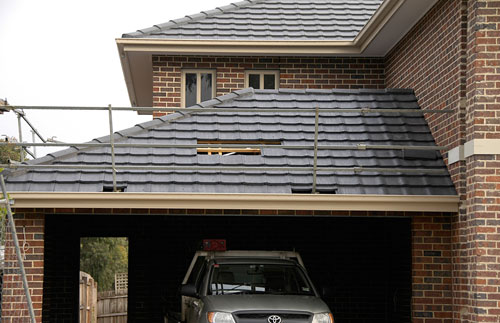 While I was there yesterday morning taking these photos, there was (obviously) a car parked in the new 'undercover' garage. From inside I could hear some nail bashing going on, but had no idea who, what or why.
It wasn't until my Husband returned home from work (and a peek through dirty windows) that we had stairs!! We both went back with 'site shoes' and a torch and peeked through the dining windows. Gorgeous, gorgeous stairs! This is what they will eventually look like, although different paint colours: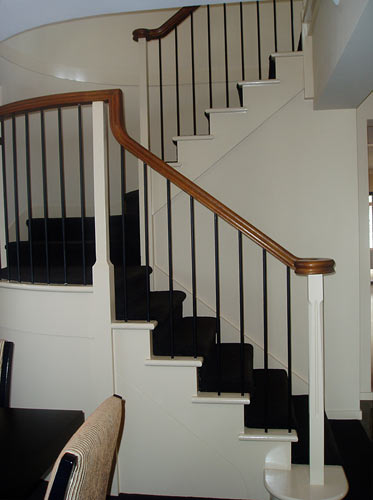 The 'walls' of the stairs will match the wall colour, while the rest of the woodwork on the stairs will be white to match the rest of the woodwork throughout the house. The banister will be stained and glossed as it is in the photo. The reason why we decided to do this was that it will 'hide' more finger prints and grime, and if it chips accidentally, then the stain will be a bit more forgiving than if it was white. It will also tie in with the colour of our floorboards down the hallway and into the family/kitchen/meals.
When we did our colour appointment or Tender (I can't remember), I asked to have 6 decorative balusters, to include 2 on the top of the stairs in the TV area. I was advised that they can only provide 4. That was OK, I could live with that...well I have 5 that I could see!!

There is one on the first rise of stairs, 2 on the curved landing, another on the second rise of stairs, and the last on the top landing. Lovely!!
I'm so looking forward to my next site meeting in a few weeks when I can look at them properly and walk up them!!! There was also a delivery of doors, architraves and skirtings! I can't wait to see it all come together!!!