We have returned from our unexpected 'meeting' with Henley, and have had a small breakthrough. We still don't have an 'official' site start date, and our CSA could not give us one as our SS is on site, but it was due to begin this week or next week anyway. The only thing holding us back now is the forecast of Melbourne's impending heatwave, of three consecutive days above 40C. I don't blame the tradies for not wanting to work...
Anyway, due to our misfortune we have had to endure, and the 102 days of an empty block, we decided it was time to talk compensation. We had three options up our sleeve, and chose option B. We decided that because there have been delays out of no fault of our own, and we really should have started before Christmas, our compensation was to be that the contract start immediately, regardless of whether any site works begin. So, today will mark the official start of contract, so the clock is ticking. They have 310 days to finish our home and complete handover or they will have to pay liquidated damages. This means we will most likely be in before Christmas, driveway and flooring included.
I refuse to break open the champers until we have received a letter of confirmation, and a couple of phone calls (Construction Manager was in a meeting, and the SS was on site). If there is any backing down we will consider Option C as a last resort.
So, that's that out the way, on to lovely things!
I know it's not French Provincial, but I have the opportunity to make myself one of these!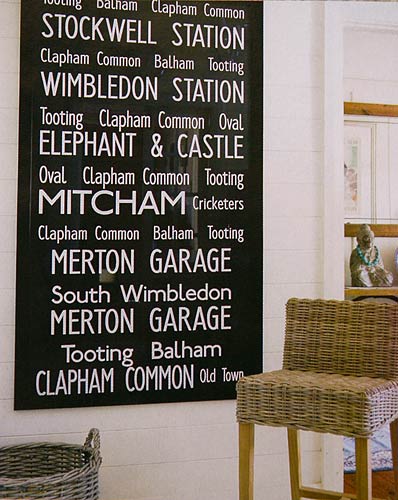 Image courtesy Home Beautiful.
It's a vintage London Bus Roll, and I plan on attaching it to a canvas and hanging it on the wall. Which wall, I'm not so sure, and would probably look best either in the family room, or the TV area upstairs, not in the hallway, lounge or dining. It's quite modern, but being vintage, I'm sure it will fit right in. Also the fact that London will always have a special place in my heart, it's quite fitting.
What do you think??