As the title suggests, yesterday I spent the morning chasing up my missing bricks. The Gentleman at Daniel Robertson's, who looks after the Henley houses/orders, spent a while with me discussing how many bricks I would roughly need for the 'proposed' fence for our property. He then placed an order for me for 1,360 bricks. It's going to cost me a little over $1,350. Not sure how much the labour to build the fence will cost, but we'll cross that bridge when the time comes along!
It was paramount that I act quickly on getting the bricks, as there is now a significant colour difference between batches. As suspected, my bricks are the 'old', more colourful batch (thankfully), and there is not nearly the vibrant colour variations in the 'new' batch. The new batch would look disgustingly obvious next to the house!!
Now that that has been taken care of, I can rest a little easier, especially since scouring the site yesterday for any brick remotely salvageable, and ending up with at least 30. They will be perfect for the footings.
Also yesterday on site, I noticed the powder room toilet plumbing had been removed and was sitting in the rubbish cage: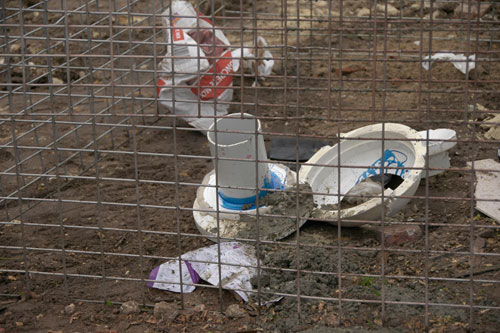 Upon further investigation, the outlet has been amended, and there is no longer a 'shelf' in it!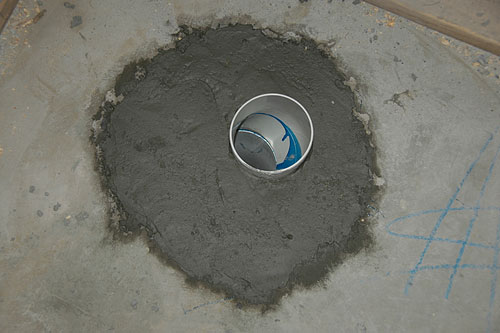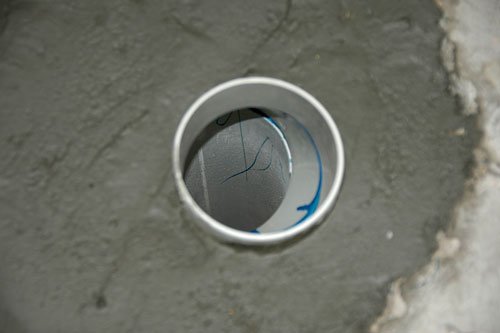 Here is how she looked in the fog yesterday morning:
Complete with freshly painted eaves: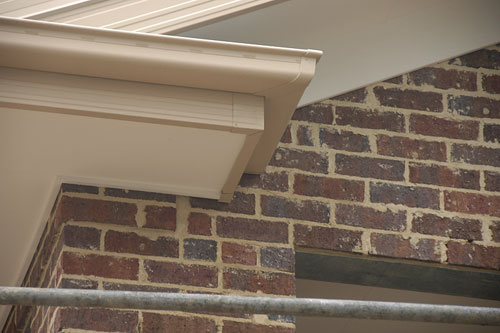 I also noticed the cornice which has been sitting across the garage entrance door for over a week has been damaged: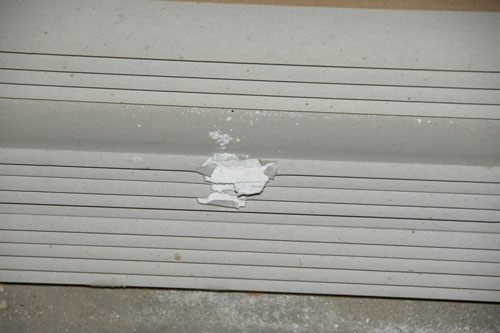 It happens, I guess, and hopefully it will be easily patched (or better still, not used at all) on my walls!
This morning on my 'drive-by', there wasn't anyone there, but on my return journey this afternoon, the top storey of bricks had been cleaned! It was too dark to take any pics (and I didn't have my camera), so I will take some tomorrow morning after they have dried somewhat. They look fabulous though...but I always knew they would!
Still not officially at lock-up, but hopefully that will happen next week. The invoice will be a killer! We worked out that it will be MORE than what our first mortgage for the original house was!