On my drive by this morning after the school drop off, I was greeted to a large truck parked in the street stacked full of plaster sheets and cornice!
I returned a little later with my camera...
This is our standard cove 75mm cornice. We could have upgraded, but decided there was nothing wrong with the standard and upgraded the skirts and archs instead, which will be more 'on display' around the windows and doors, and more noticeable.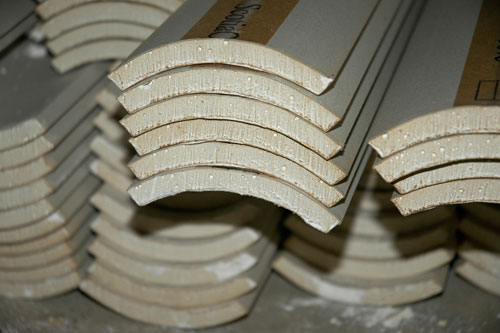 We are unsure where this plaster will go. It looks slightly thicker than the standard 10mm, and is in smaller blocks. Perhaps around the 'reveals' to the lounge and/or dining (which have no doors), or around the bulkheads in the entrance hall?? Stay tuned!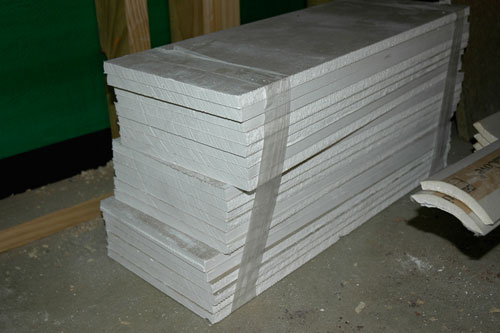 Our large pile of plaster board dumped in the middle of the family/kitchen! Unfortunately, the roof isn't finished under half of the room (you can see sun poking through!), and it rained a little today, didn't it! There was a little puddle on top of the plaster under a missing roof tile. Hopefully it will be OK...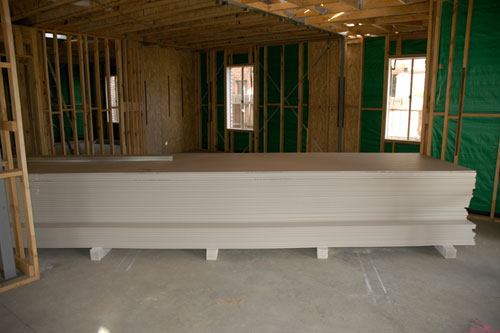 There will be plenty more plaster to be delivered, and the 5mm board they use around the curve of the stair walls isn't here yet.
Lots happening in the next 2 weeks, and soon we will be locked out:(