Not often do I get excited about seeing toilets, but this time, I couldn't contain myself!! I had just left school after dropping off my Son for his first day, and attending to the uniform shop. I decided to drop by on the way home...just in case! Luckily I had my camera with me, and I couldn't contain my excitement when I saw a toilet and rubbish cage on the block!!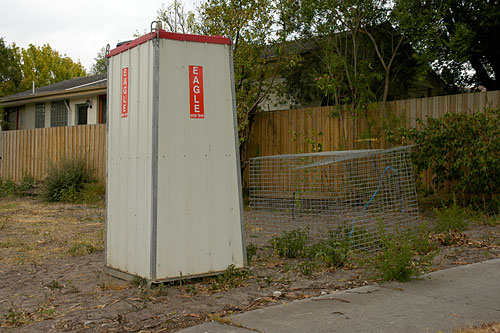 After all the prior dramas and numerous delays, it actually feels like a reality now! We still have a huge road ahead of us, but, for now, I can sleep better knowing that progress has been made.
After I picked the kids up from school, I went back to the block to show them what I had discovered! Sometime after my first trip there today, there had been another little visitor, who had left 2 signs and some pink paint! The first sign I have been waiting a while for, and was just as excited to see it as I had the toilet! (Creative photoshopped techniques used for privacy reasons.).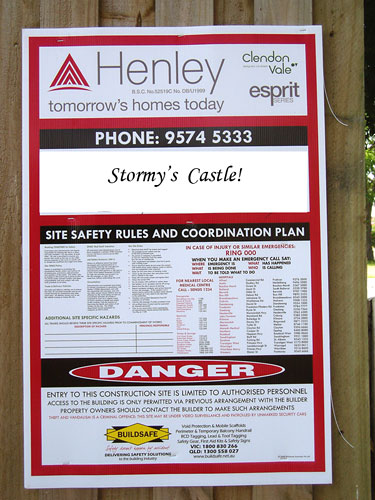 This sign is stapled to the back fence, and is delivery (or dumping) instructions for our beautiful Daniel Robertson bricks. I am soooo looking forward to these! They will be worth every cent of the $7.7K upgrade.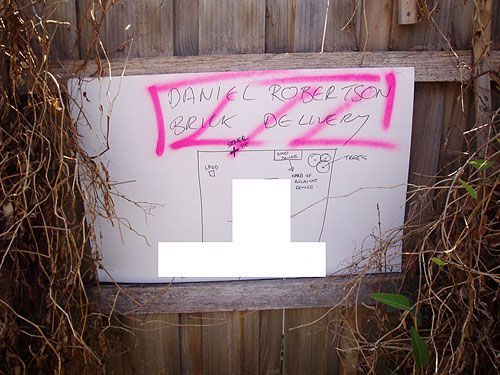 The pink paint, I guess, is just to highlight the existing water metre so either tradies know to avoid running their trucks over it, or the water people know where to install the tap. Not sure, but it wasn't pink yesterday!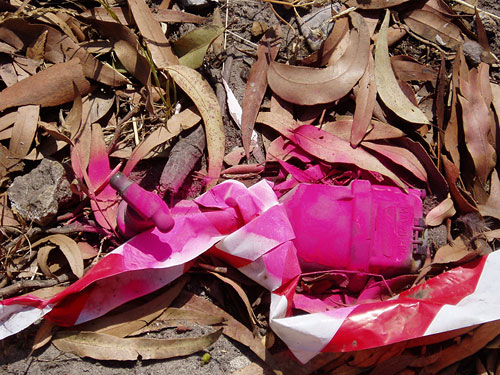 I will be eagerly awaiting to see what tomorrow brings! Maybe, just maybe, there might be some earthworks!!!